Company
The company name STG-Beikirch is the result of the merger of the two ESSMANN subsidiaries "STG Sicherheitstechnik" and "Beikirch Industrieelektronik" in 1999. Today, the company employs 180 people in three production facilities.
In the field of industrial electronics, we make your innovations possible because we transform your ideas into electronics: individually, in partnership and cost-effectively. Our services range from development to contract assembly.
In fields ranging from LED technology, safety technology, drive and control technology, right up to medical technology and industrial electronics - you benefit from our many years of experience.
From planning to production: Your partner for industrial electronics
STG-Beikirch is one of the leading manufacturers in the field of smoke and heat extraction systems and ventilation technology. The company develops, plans and produces intelligent safety systems for facades. We calculate and project tailor-made concepts that guarantee reliability and safety at the highest Level.
In the industrial electronics sector, STG-Beikirch manufactures electronic components for both its own and third-party products. STG-Beikirch offers you all services in industrial electronics, from layout to printed circuit board, from prototype all the way up to mass production of the fully tested and approved product.
With our state of the art equipment we can also produce your electronic assemblies in conventional or SMD technology, whether small or large series. STG-Beikirch will gladly support you in the development and production of your products.
We make your innovations possible because we turn ideas into electronics...
In 1999 the companies "STG-Sicherheitstechnik" and "Beikirch- Industrieelektronik" merged. In May 2004 STG-Beikirch took over the production and business of "Winkhaus high Control". Today, STG-Beikirch employs 180 people at three plants in Lemgo-Lieme.
State of the art technologies in production...
The SMD production systems, the EMC measuring cabin for testing electronic controls, the electronic equipment and our certifications in accordance with DIN EN ISO 9001 and DIN EN ISO 14001, show our success and our competence as an EMS service provider. We can also manufacture your electronic assemblies in conventional and SMD technology with the help of our state of the art equipment. On request, a 100% final inspection can be carried out with our in-circuit and function testers.
Whether small or large series, from layout to the tested PCB. Let us assure you of our expertise in the development of electronic assemblies.
Innovations for lighting and electronics
The product range of the Department of Industrial Electronics is focused on the development and production of customer-specific electronic assemblies as well as LED lighting Technology.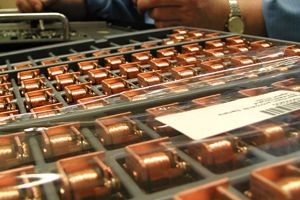 About us
STG-Beikirch GmbH
Trifte 72
D-32657 Lemgo

Telephone +49 (0) 5261.9658-0
Fax +49 (0) 5261.9658-66
www.stg-beikirch-industrieelelektronik.de

Contact
Registered office: Lemgo; Lemgo district court HRB 2988

Management Board:
Dr. Markus Niedermayer
Frank Wienböker
Liam McDaniel
Garett Crowe
Authorised capital: € 26,000
Year of establishment: 1988
Tax number: 313/5727/1168; Finanzamt Detmold
VAT identification number: DE 815 832 829
Occupational insurance association: BG ETEM Energie Textil Elektro Medienerzeugnisse, membershipment: 0 751 510 3
Indemnity insurance:
HDI Hannover, Police: 48-003333-01098

Limits of indemnity
Personal / material damages: € 5,000,000
Financial losses: € 500,000
Defects in workmanship: € 1,000,000
Number of employees in 2018: 88 salaried employees,
100 industrial employees
Turnover in 2018: € 26,678,000
Certifications
Quality Management according to DIN EN ISO 9001
Environmental Management System according to DIN EN ISO 14001
Product certification according to CE
Manufacturing and distribution of SHE control systems for fire safety and of ventilation elements.
Distribution in Germany and in Europe, focus on Southern and Eastern Europe.
Production and distribution sites in Germany.
as of: 26/09/2019