We light the way...
New light-emitting diode technologies enable us to use light in many innovative ways in areas of technology and design. Light emitting diodes (LEDs for short) are based on semiconductor connections that convert the flowing current directly into light.
With outputs from 1 to 5 watts per LED and an extensive colour spectrum, new areas of application can be realized on special circuit boards that were previously not possible. Today STG-Beikirch develops LED system solutions for general and outdoor lighting, airport lighting and offers new energy-saving and maintenance-free lighting concepts for wind power and signalling systems.
In architecture, LEDs offer a wide range of design options for interior and exterior lighting technology. LEDs can be used to create new, future-oriented and innovative lighting effects in many different areas such as decorative and entertainment lighting, LCD backlight and advertising.
LED - General Information
LED is the abbreviation for "light-emitting diode" and refers to an electronic semiconductor component. In an LED, light emission takes place in the so-called "die", the light generator. The light generator is mounted on a multifunctional printed circuit board, which takes over cooling and power supply.
The development of LEDs: Not all colours can be produced with an LED. For example, the technology for the generation of "white light" and thus as a lamp replacement, was long ignored. It was not until 1995 that white light was produced by adding a special phosphor mixture of blue LEDs. This was the start of a steeply rising success curve for LEDs. Similar to incandescent lamps and energy-saving lamps, LED lamps also age, but in different proportions. The average service life of an LED in an application (i.e. in a lamp) is up to approx. 50,000 hours or more.
The ecological idea: LEDs can be switched on and off without wear, contain no mercury and consume less electricity - in comparison to the energy-saving lamp, it is up to 30 percent, and when compared to the incandescent lamp the difference can be even up to 85 percent.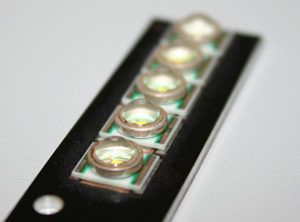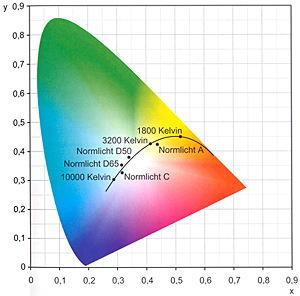 Colour Temperature
Whether the LED has a warm or cold light can be seen by determining the colour temperature. The higher the colour temperature, the colder the light appears. A colour temperature of 3000K is generally referred to as warm white. 4000 - 4200K is considered neutral white and> 5500K as daylight White.
Advantages and Disadvantages
LEDs are the optimal solution from an economic point of view. They have low energy consumption and are characterised by low heat Generation. Depending on the LED used, the service life is longer than that of conventional light sources.
There is a lower usage of resources and energy in operations, for the sake of the environment. Light emitting diodes gradually become weaker, but usually never suddenly fail. They are insensitive to vibrations, which offers new dimensions, e.g. in vehicle technology, as they are shock and vibration resistant. In addition, LEDs do not have a hollow body that can implode.
The lifetime depends on the respective semiconductor material and the operating conditions (heat, current). The specified lifespan ranges from a few 1,000 hours for 5-watt LEDs to over 100,000 hours for low-current LEDs.
High-power LEDs are used for Illumination purposes, for which special LED designs have been developed.
In addition to high efficiency, it is important to get as much light as possible from an LED. A higher luminous flux per LED is achieved with larger than average LED chips, several chips in one housing and operation with higher currents. In order to avoid degrading the life of the LED, care must be taken with these LEDs, to ensure the resulting heat is well dissipated. This heat is efficiently and inexpensively dissipated with thermally conductive substances in circuit boards.
The design advantages of the LED technology are obvious: a new, finely structured design and dimming without changing the light temperature. In addition, all light colors can be realized and controlled.
Designs
LED designs vary according to type and are available in a wide variety.
In addition to the "standard designs" of three and five millimeters and various miniaturized SMD LEDs, LEDs have been developed that allow operation with a higher current due to their special housing shape. This generates a higher luminous flux.
Depending on the soldering process, a distinction is made between designs of electrical components soldered to the back of the board and the SMD (Surface Mounted Device).
LEDs are also available in these two designs, whereby SMD technology offers advantages in miniaturisation through higher packing densities and lower overall heights.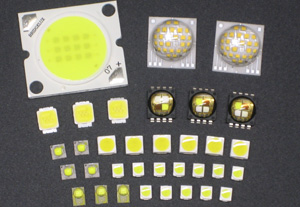 Development
The LEDs open up completely new perspectives for lighting technology. From development, rapid prototyping with CCI/FR4 material, pilot series production up to series production, we stand alongside you as your partner.
Not only do we develop concepts for pure lighting with you, but also solutions for heat management and the required control devices.
Our development not only offers lighting designers the opportunity to develop new design concepts and product ideas, it also serves to improve the quality and durability of existing products.
Your Encyclopedia on LED's
The subject of LED technology is complex. In order to inform our customers as comprehensively as possible, we offer you comprehensive information and access to our specialist knowledge. Of course, you are also welcome to contact us personally at any time if you have any special questions about LEDs.